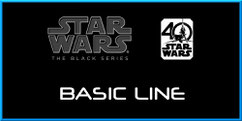 Der Shopservice hat heute eine E-Mail gesendet indem bekannt gegeben wurde, dass die 1. Wave der The Black Series - Serie 4 Basic Line ersatzlos gestrichen wurde. Sie berufen sich dabei auf eine Benachrichtigung von Hasbro.
Wir haben bisher dazu noch keine offizielle Aussage erhalten, aber wir gehen davon aus, dass die Information korrekt ist. Unsere US-Kollegen von Jedi Temple Archives haben auch am 20.06.17 berichtet, dass die Wave nicht mehr produziert wird.
Über die Hintergründe liegen uns keine Informationen vor. Unsere Vermutung ist aber, dass die Wave aus Kapazitätsgründen weichen muss. In ca. 2 Monaten sollen die The Last Jedi Figuren verfügbar sein, Walmart erwartet noch eine The Black Series 3 3/4 Inch Wave und zum Jahreswechsel müssen die Figuren zur The Vintage Collection bereit stehen. sobald wir genauere Informationen vorliegen haben, geben wir diese natürlich weiter.
---