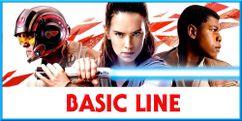 Vor zwei Tagen wurde auf Instagram Bilder von kommenden TLJ - Basic Line Figuren veröffentlicht. Der Verfasser sagte, dass er diese Bilder auf Amazon USA entdeckt hat. Dabei handelte es sich um genau drei neue Figuren. Wir haben versucht die Seiten zu finden konnten dies aber nicht, daher gehen wir von einer unbeabsichtigten Veröffentlichung aus!
Wir haben allerdings die Bilder zwischengespeichert. Zwei der drei Figuren waren bzw. sind schon seit der San Diego Comic Con 2017 bekannt. Daher spricht auch nichts dagegen diese Werbebilder zu veröffentlichen und die Artikelseiten zu aktualisieren.  Zur geleakten dritten Figur schreiben wir nichts, die Gründe dazu sind bekannt.   
Wir wussten bereits das C'ai Threnalli einen abnehmbaren Helm hat und nun haben wir auch den Beweis dafür. Die Figur sieht sehr gut aus, auch hat sie einiges an Filmzeit bekommen, was auch als durchweg positiv zu werten ist.
Der Imperator wurde auch bereits angekündigt. Hierbei handelt es sich um ein Repack aus dem Return of the Jedi Multipack. Beide Figuren erscheinen in der 3. Wave, allerdings in verschiedenen Sortimenten. Während der Imperator im Sortiment C1503 erscheint bekommen wir C'ai im Sortiment C1531. Bisher gibt es noch keine Ankündigung bzw. Bestätigung für Deutschland. Wir halten euch diesbezüglich auf dem laufenden. 
---